Welcome to the Interface
Last use - 4:57PM - "NEW WORLD"
Pick up where you left off?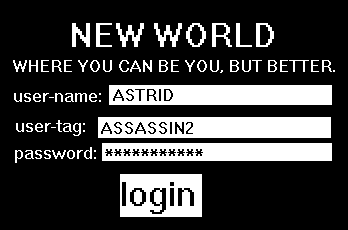 Welcome User Astrid!
Important Reminders for Users:
Remember to click in all emergencies!
Matching Agency will not be pairing over the next four days for the New Hanukah-Christmas Holiday Celebrations on the Capital Interface.
Last Interface Login: Eight Days Ago
Last Food Order: Eight Days Ago
Current Menu Level: High Status
Last Food Order: Duck Fat Frites and Mushroom Risotto
Last Work Login: Eight Days Ago
Current Work Assignment: New Age History Education: 4th Year Users
Current Work Level: High Status
Personal Days Remaining: -3
Astrid's Page
"New World" game waiting for update
Remember to grade the essays!
Check on matching committee results
"New World" game waiting for update
Check on matching committee results